FOREST⇌FIRE
FOREST⇌FIRE anchors a larger movement, Future Forests, emerging now in California connecting the arts with issues of forest management and fire, so that residents can arrive at a healthier, more sustainable relationship with a force of nature that has always been here, and always will be.
FOREST⇌FIRE is an interpretive installation connecting art, science and the humanities whose intention is to bring viewers into a transformative cultural understanding about the Sierra Nevada forest, its relationship with fire and our role within that relationship. Flowing thematically through past, present and future, the project will utilize works of contemporary art in various mediums including painting, textile, beadwork, narrative film, sculpture, scent, and photography among other modes. It will tell the story of how indigenous people, using low intensity fire, created and maintained the West's pre-European, old growth forest for thousands of years, of why our forests are currently in ecological collapse and what can be done immediately to prevent the loss of our Forest.
Beginning with the California Gold Rush 170 years ago, maintaining and harvesting the forests of the West went from the Native American practice of tending
a biologically rich, multi-product terrain benefitting many, to the Euro-American practice of extracting one product, large trees, benefitting few. The result has been forests of densely packed small trees, brush and drying slash that, since at least 1910, are prone to cyclical fires of catastrophic intensity. While we have slowed the practice of clear-cutting, decades of well-meaning but misguided fire suppression combined with global warming have brought our disrupted forests to ecological collapse. Fortunately, the science from the University of California, Berkeley's Sagehen Creek Field Station and a community collaboration that includes loggers, environmentalists, wildlife specialists, regional native tribes, land managers and NGOs have developed a prescription that will stop the cycle of catastrophic wildfires, return useful low-intensity fire to the landscape, and allow the people of California to return to tending forests which, once again, benefit us all.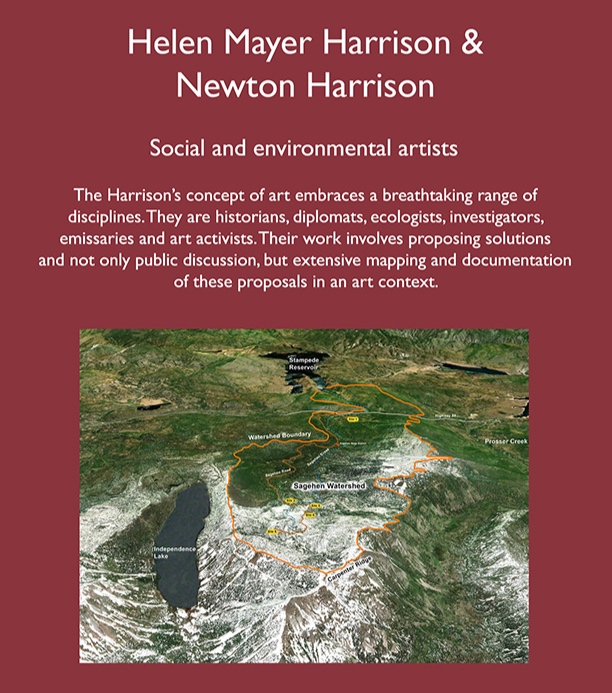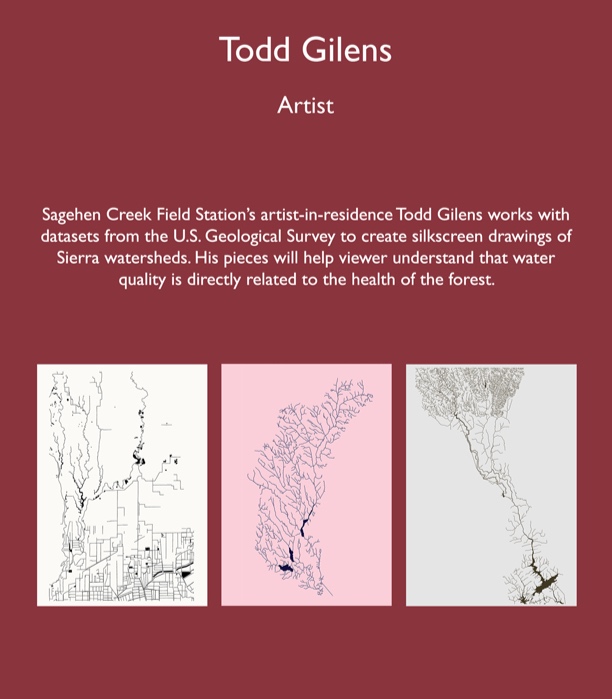 Supporters and Collaborators
NEVADA COUNTY ARTS COUNCIL
SAGEHEN CREEK FIELD STATION, UC BERKELEY
TRUCKEE DONNER RECREATION & PARK DISTRICT
THE WASHOE TRIBE OF NEVADA AND CALIFORNIA
THE NISENAN PEOPLE OF NORTHERN CALIFORNIA
CAL FIRE
THE SIERRA NEVADA CONSERVANCY
THE TAHOE CONSERVANCY
TAHOE TRUCKEE COMMUNITY FOUNDATION
US FOREST SERVICE - TAHOE NATIONAL FOREST AND LAKE TAHOE BASIN MANAGEMENT UNIT
US FOREST SERVICE - PACIFIC SOUTHWEST RESEARCH STATION
Taking action to bring our forests back into equilibrium (⇌) with fire via small tree and slash reduction combined with traditional low intensity burns, will regenerate healthy, fire resistant, large tree forests of pristine beauty and great utility, personally affecting each and every Californian. Healthy, large tree forests purify our water and the air that we breathe, slow the effects of global warming via carbon sequestration, encourage biodiversity, and provide an endless and sustainable source of small-tree timber products and the jobs that go with maintaining, harvesting and processing them, into the future.